I can't even begin to describe how much I wanted this when I was 9. My favorite brand of bike was Kuwahara and this thing was the coveted trophy to show off at the jumps. Never could lock it down though. Through some random turn of events, I stumbled across this article describing the process they used to develop it. If anyone ever sees one anywhere, let me know.
These guys had the best team back then for about 3 years. Gary Ellis (Kuwahara) was the man until Harry Leary (Diamond Back), Greg Hill (GHP), and Stu Thomson (Redline) hit their stride around '84 and started owning it until BMX went primarily freestyle around '86.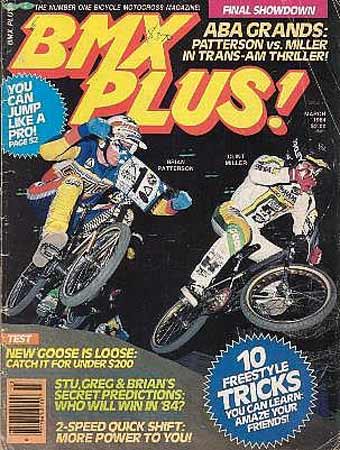 I remember seeing all of those guys at the 1983 ABA Grand Nationals in Tulsa The above BMX Plus cover is from the finals of that race. (Jesus, I'm old.). So starstruck. There was a Hutch demo there that year where I actually may have shit my pants after someone bunnyhopped a garbage can. True story.
This one blew my mind too. Mike Dominguez (Haro) running the elusive vented Haro Tech number plate. These things were a hot commodity. I had one with my Oil Capital BMX ABA number and everything. Sah-weet.